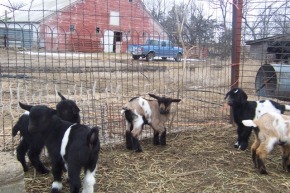 Hello Again from Barn Goddess Fainters! After a two year hiatus from actively raising and selling goats it's time to get back into it and raise my beloved Fainters.

My name is Stephanie and I have had Fainting Goats since 2001 when I bought my first three does. My first kids were born in 2003 and that was so much fun my herd just kept growing. I was managing a good sized herd on my own (the goats are not my husbands thing) until the fall of 2007 and I decided to try and go back to work.

Managing our local Animal Shelter was rewarding, but I decided it took too much of my time away from my family and goats. I much prefer farmlife to trying to work someone else's agenda.

Well the goat herd is too big and I'd like to get back down to a more hobby type size so I'm having a Herd Reduction Sale. Look to the sale pages and non-fainting page for great deals on breeding age does and bucks.